Rods, rings, track and hooks. What's the big difference?
Lee Sandler
2020-02-11T13:26:40+00:00
We know it can be a little confusing so we are going to try and clear a few things up about rods & rings, tracks, and hooks and what is really the big difference!
Rods and Rings
Curtain rods, also known as a curtain poles have a dual function. They are used to suspend curtains and also used as a decorative feature. They can be made of metal, wood or plastic and are fixed to the wall using a series of supporting brackets. Curtains are attached to curtain rings using a series of hooks and are suspended from the curtain rod. Select the Draperly soft top, 3 pinch pleat or Euro pleat headings to achieve this look and if you would like us to quote you for custom made rod and rings, please contact customer service on info@draperly.com.au.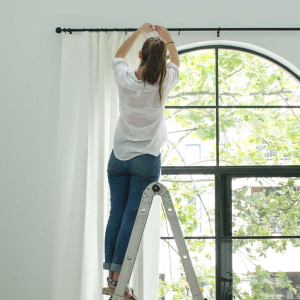 S-fold curtains and tracks
S-fold curtains are a modern look curtain. This style is simple, elegant and on-trend. The s-fold curtain looks just like a wave and glides easily along a custom made designer, slim profile track. The soft, following, wave effect creates a perfectly draped fabric every time. This style can be suspended from a ceiling mounted or wall mounted track. We offer either of these tracks free of charge, in white, when ordering your s-fold curtains. An s-fold curtain is married to its accompanying track and as such this look cannot be achieved when using tracks sourced elsewhere or existing tracks. All of our tracks are hand operated. If you require flick sticks to be sent with your s-fold curtains, or if you would like a black track instead of white, please contact customer service info@draperly.com.au.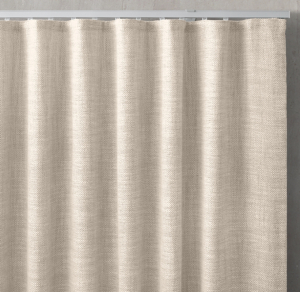 Tracks with free moving gliders
A track with free moving gliders has gliders that move independently of one another (unlike the s-fold tracking system where the gliders are locked in at evenly spaced intervals). This system is most suited to use with pleated curtains. If you are using an existing track, or if you would like to purchase a track from us, please contact us at info@draperly.com.au. Tracks with free moving gliders are usually used when accompanied by a curtain pelmet and are not suitable for use with soft top curtains or s-fold curtains.
Ceiling mounted & Wall mounted tracks
Both s-fold tracks and tracks with free moving gliders are available in ceiling mounted and wall mounted options.
Ceiling mounted is when the track is mounted directly to the ceiling and wall mounted is when the track is mounted to the wall. When purchased from us, it is the same track, just with different brackets enabling a different mounting position.  See images below:
.
.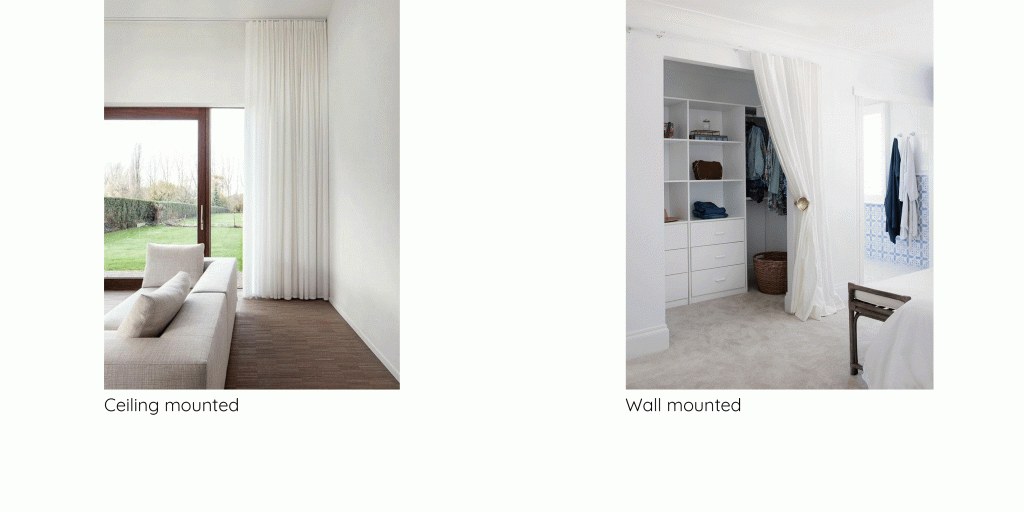 A wall mounted tracking system is generally only used with an s-fold  if an architrave prohibits direct ceiling access or the ceiling is in an odd place in relation to the window, otherwise ceiling mounting is preferable for this style as it gives a more contemporary, neat and clean looking finish.
If you would like specifications for our wall and ceiling tracking systems, please contact us at
info@draperly.com.au
and we will email them to you.
.
Hooks
All of our curtains arrive ready to hang with hooks affixed at intervals of approximately 8/9cm.
So there you have it!
Please contact us directly if you have any questions about which one is most suitable for your project!